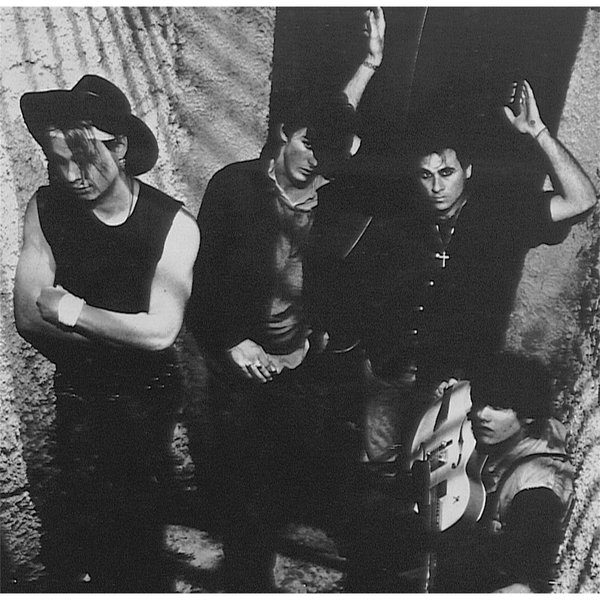 From the album "Dance with me", I personally pick the song "Tired of life wich I came across while having a few drinks with some friends in a punk-rock hole in London near a bar called the 12 Bar Club in Denmark Street around 2005. I had to know the name of the band, TSOL they said, for TSOL I looked for , and True Sounds Of Liberty I found.

The story goes like this , Drummer Todd Barnes guitarist Ron Emory, bassist Mike Roche, and vocalist Jack Grisham (who has been credited as Jack Greggors, Alex Morgan, Jack Ladoga, Jim Woo and James DeLauge) were four kids who grew up together in Huntington Beach, the band´s name TSOL –True Sounds of Liberty. Formed in 1979 and hailing from Long Beach, California, TSOL originated as a hardcore punk band, developing from earlier bands Johnny Coathanger and the Abortions and Vicious Circle.
This is one of the original California hardcore punk bands, mixed punk goth, glokm & doom, and ghoul rock.
They remained a favorite to many punk rockers in the Orange County scene, constantly switching labels, and Jack, the original lead singer constantly switching his name.
The band's first release was a harshly political eponymous EP featuring tracks such as "Superficial Love," "World War III" and "Abolish Government."
After their debut EP, they released Dance With Me, their first full-length record. A departure from the entirely political nature of the previous release, "Dance With Me" was far darker and more macabre, featuring such themes as necrophilia, and the song "Silent Scream," which is made up entirely of horror movie clichés. Their most popular release, both then and to this day, the album earned them the title of the "West Coast Misfits" (a reference to Glenn Danzig's band on the East Coast), and has made the band a favorite amongst horror punk fans.

There were obvious reasons why TSOL was so huge so fast: They were cuter, their songs were catchier and their live show was a lot more energetic and fun then any other band going. They single handedly initiated the influx of girls into the early 80's punk scene. With songs about fucking the dead, "Code Blue" and gothic punk ballads like "Silent Scream", they became the first punk "phenomenon"; it was the "OC Invasion".
TSOL was linked in the minds of many OC hardcore fans to the Cuckoo's Nest, a nightclub in Costa Mesa that shared a parking lot with an "urban cowboy" club during that feather-hat cowboy pop culture craze with other punk bands like Social Distortion and the Vandals.

They later signed to independent label Alternative Tentacles, for which they released the "Weathered Statues" 7" extended play and the Beneath the Shadows album which featured, for the first time, keyboard player Greg Kuehn who added a new dimension to the band. Around this period their style had switched further, moving towards a highly experimental and varied one which featured art punk and psychedelic leanings, as well as their customary horror themes. Fans of the time backlashed tremendously against this change, and when on tour, the band was harshly heckled for their change in music. Today Beneath the Shadows is acclaimed by fans and critics as an achievement in art punk and new wave experimentation, and while Dance With Me remains the favorite release for most people, it is Beneath the Shadows which makes TSOL more than just another hardcore band.[citation needed]

The band became friends with Guns N' Roses and TSOL t-shirts can be seen in the GNR video for "Sweet Child o' Mine". They followed up with an album in a similar style, titled Hit and Run. Before it was released, original guitarist Ron Emory quit the band, leaving Mike Roche as the sole original member.

TSOL were joined briefly by guitarist Scotty Phillips, who quit before the band started recording the follow-up to Hit and Run, they eventually hired guitar player and actor Marshall Rohner. They released a blues-metal album titled Strange Love in 1990. Mike Roche quit shortly before the album release, leaving no original member in the band. A compilation album entitled Hell and Back Together 1984-1990 was issued in 1992 with an emphasis on their metal era. Murphy Karges, later of Sugar Ray, briefly replaced Roche on bass as did Dave Mello.

Beneath the Shadows (Alternative Tentacles), the band's second full length LP, showed just how much the band had rapidly matured. It wasn't a breakaway from their previous releases; it was a progression. The band added keyboards and the arrangements became more complex and stylized, it made one think that the London Symphony might be touring with them in the future. As other bands of their genre fumbled around "into the unknown", TSOL forged a new sound, one that didn't turn fans away, but made them even more numerous and rabid. But with their enormous popularity, and their first tours, the foundation began to crack. Excessiveness and things that go along with "bigness" forced changes, including the departure of Jack and Todd, leaving behind a band that was well on the way, to instead regressing to a more primitive punk sound that quickly stagnated and alienated fans.

Today, 10 years since it's last "reunion", the band is back to give us what they gave then. "Superficial Love", "80 Times", "Code Blue", "Wash Away" and the rest of those vintage punk nuggets will be blasted live into our faces again. Those who were not around to witness TSOL in their heyday can finally see for themselves why the band spawned a generation of bands and changed the shape of music today.

In November of 2002 there was a shooting on stage at the House of Blues in Hollywood Ca while TSOL was playing on stage. TSOL was pulled into the mess because they were the band playing on stage at the time. Now, over two years later, while the two guys who were shot walked away with 2 million each, TSOL was stuck with a $14,000.00 attorney bill.

Punk's Not Dead is a new documentary film that features T.S.O.L. in a who's who of faces and music from the punk world from 1976 to the present. It may be the biggest film ever made about punk, set to be released on the 30th anniversary of the movement. More information as I get it, but you can check them out on the internet, Punk's Not Dead.
I really am sorry for such a brief article, but, I really am short in time, and as a first post let´s keep it this way so you people may find the rest by yourselves, the way I did, and what a pleasant and wicked journey it was.



References : http://www.truesoundsofliberty.com/online.htm
http://en.wikipedia.org/wiki/TSOL
And many thanks to a few friends of mine in London and Amsterdam for introducing me to this band.